Manufactured stone, EIFS & stucco are extremely popular home exterior coverings.  Despite their considerable durability, hairline cracks will form, most frequently in the mortar joints.  These cracks are especially common in parts of the country that experience frequent freeze and thaw weather patterns.  These hairline cracks allow wind-driven rain to penetrate the mortar and collect within the interior wall.  Once the moisture gets in it has nowhere to go, thus creating the perfect environment for toxic mold growth.
Mortairvent® is a two-ply mortar deflection and ventilation system that has been specifically designed for use with manufactured stone, stucco, EIFS and brick. By installing the Mortairvent® two-ply system, a ventilation cavity is created between the vapor barrier and exterior wall.  The blue polymer core mesh creates the airspace, while the filter fabric blocks mortar droppings from seeping into this newly formed cavity, while still allowing moisture to pass through.  This combination of drainage and ventilation eliminates the threat of toxic mold.
The company provides a comprehensive line of products for managing moisture in masonry cavity walls, single wythe C.M.U. walls, and adhered masonry veneer walls. Products include drainage and flashing solutions, mortar dropping collection devices, drainage planes, pre-formed flashing corners and end dams, sealants and weep vents.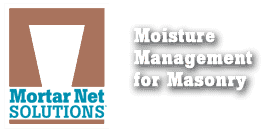 SOPREMA is an international manufacturer specializing in development and production of waterproofing products for the building and civil engineering sectors. SOPREMA, founded in 1908, has its headquarters in Strasbourg, France and operates in 70 countries.
Beginning operation in Canada in 1978, SOPREMA now employs more than 360 people in its two manufacturing facilities in Drummondville, Quebec and Chilliwack, British Columbia. Technical sales support is provided by 11 sales offices throughout Canada. SOPREMA's North American Research and Development Centre with 12 chemists and technicians is located in Drummondville.
Since starting operations in Canada, SOPREMA has manufactured and installed millions of square meters of waterproofing membranes across the country. Each year, hundreds of building professionals choose SOPREMA for the quality of its products and the expertise of its technical support team.